Many industries rely on the heavy-duty work performance that only excavators can provide, which is why many operators want to learn more about adding auxiliary hydraulics to excavators. Excavators with the right attachments, powered by auxiliary hydraulics, provide the machine utilization required for demanding applications required in:
Demolition
Construction
Mining
Oil and gas
These are just a few of the industries that demand heavy-duty machinery and equipment that only excavators and powerful attachments can provide. Choosing the right attachment for your excavator is important to streamline your heavy-duty work for a more efficient and productive job. Hydraulic adapters and auxiliary kits help to utilize the best choice of excavator attachments.
Heavy Duty Excavator Attachments Need Auxiliary Hydraulics
Excavators provide the versatility to choose from a wide selection of robust, heavy-duty attachment tools to get the job done with the quickest and easiest solution. Making sure your excavator can power the most demanding attachments is critical for productive and efficient work. Adding auxiliary hydraulics to excavators and mini-excavators opens the door for greater possibilities by making your excavator a big tool carrier.
Some heavy-duty attachments that require robust auxiliary hydraulics include:
Hydraulic breakers and hammers – quickly demolish concrete buildings and more with powerful hydraulic hammering.
Excavator grapple – a universal, primary hydraulic power tool with powerful moving jaws for loading and sorting.
Hydraulic thumb – the thumb allows for grabbing and sorting through demolition debris and aids in recycling. A hydraulic diverter valve can help power the hydraulic thumb and keep the hoses clear from twisting, and turning movements.
These are just a few of the most popular excavator attachments that require auxiliary hydraulics for powerful and efficient heavy-duty work tasks.
Auxiliary Hydraulic Conversion Kits for Excavators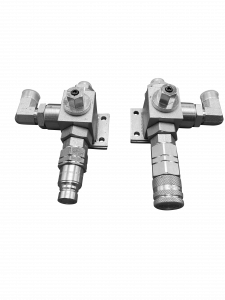 Stucchi offers hydraulic solutions with auxiliary hydraulic kits, conversion kits, and diverters to upgrade your equipment for using high-flow hydraulic power. Our experienced hydraulic specialists can help you understand the best way to add auxiliary hydraulics to excavators and how to upgrade to high-flow hydraulics on your skid steer or compact track loader (CTL). We have been providing hydraulic solutions to a wide range of demanding industries, including tasks requiring heavy-duty hydraulic power.
We offer auxiliary hydraulic solutions for excavators and attachments that provide rugged performance, reliable connections, complete interchangeability, and dripless, leak-free quick connect and quick release. Our flat-face couplers are recognized in the industry for providing leak-free disconnect, and Stucchi's flat-face coupler design set the ISO 16028 standard. Stucchi's APM flat face couplers provide easy quick-connect by hand, even under residual pressure.
Stucchi's threaded flat face couplers include the VEP series, interchangeable with VEPHD and VEPHDL for thread to connect reliability with heavy-duty and locking solutions.
Learn more about our many auxiliary hydraulic solutions and hydraulic kits:
Stucchi offers extensive information on How to Improve Excavator Demolition Attachment Performance and a FREE Guide on How Demolition Contractors Can Improve Profit.
When you need auxiliary hydraulic solutions for excavators, Stucchi's hydraulic specialists have the products and the knowledge to custom design the most reliable hydraulic quick-connect system for you.
Stucchi has been a leading hydraulic quick connect supplier to a wide range of industries and applications for more than 60 years. We excel in thinking outside the box and providing custom-designed solutions that improve your hydraulic power and overall business operations. Contact us to learn more about adding auxiliary hydraulics to excavators for heavy-duty, reliable fluid power.