Threaded couplings are an ideal solution for many hydraulic circuit applications subjected to trapped pressure in a line and high pressure impulses.  The thread-to-connect design eliminates premature wear or brinelling.
Threaded Coupling Solutions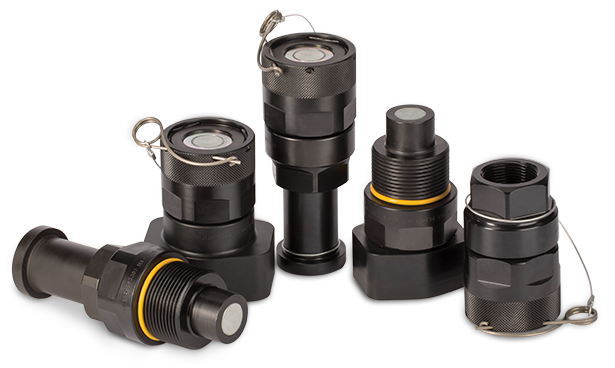 Stucchi has more than 60 years of experience in designing, engineering and fabricating quick connect solutions such as our threaded coupling products. Established in 1960, we have vast experience in providing high quality fluid control and connection products that meet and exceed customer expectations. Committed to continual improvement through research and development, we produce innovative product solutions for your quick release application, no matter the industry.
Our quick release products are found around the globe in a variety of applications such as mobile use, where equipment rigs are on the road subjected to harsh environments and wear and tear. The oil and gas industry has a critical need for high quality and durable connectors that hold their seal under pressure, preventing catastrophic results. Manufacturing and industrial processes require reliable quick connect solutions to maintain hydraulic equipment for automation. Agricultural applications rely on durable quick connect products to keep their equipment performing as intended.
Stucchi is a valued supplier to these industrial applications and many others, providing high quality quick release products for optimum performance of heavy machinery and equipment used in critical applications.
Threaded Coupling Products
Stucchi offers threaded coupling items which are ideal in hydraulic circuit applications that are subjected to high pressure impulses or circuits that experience residual or trapped pressure in a line. The threaded coupler design eliminates premature wear and brinelling. Our threaded coupler products include the following:
Our threaded coupling solutions are ideal in large construction equipment, excavators, demanding hydraulic applications, equipment needing junction points and many other critical applications.
Stucchi provides high quality products with ongoing technical support to ensure the success of your operation. You can count on our expertise in analyzing, designing, engineering and fabricating the right solution for your quick connect equipment needs.
Stucchi is recognized worldwide for high quality, durable and reliable quick release products for demanding and critical applications. We are responsive to your needs, providing the optimum quick connect product for your application. Contact us today to learn more about our custom solutions and to speak with an engineer about our superior products, including the threaded coupling.