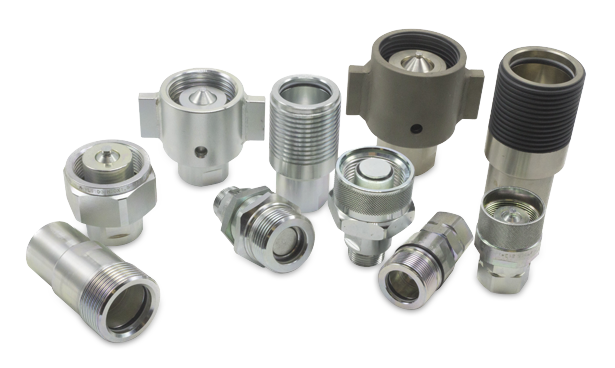 Threaded poppet valves provide hydraulic coupling solutions with directional control in open or closed center hydraulic systems. Threaded poppet couplers prevent flow checking with positive stop valving, providing a tight seal when residual pressure or operating pressure increases on one side. The poppet style valve provides a tighter seal when pressure increases.
The thread to connect mechanical connection combined with a poppet style valve makes the poppet hydraulic coupling ideal in many rugged applications. Heavy-duty, thread to connect poppet style screw couplers aid many applications such as extreme off road conditions, heavy duty construction and service equipment. Threaded poppet style hydraulic couplings or screw couplings improve efficiency by saving time when switching out equipment lines.
It is important to choose the right hydraulic quick connect couplers and valves for your hydraulic system for proper function, as well as maximum efficiency and safety. Seeking the advice of an experienced hydraulic quick coupling specialist will ensure that you receive the right hydraulic couplings and valves for your application. Stucchi offers a wide selection of hydraulic quick couplers as well as custom designed and engineered hydraulic solutions to meet specific needs.
Stucchi Offers Heavy Duty Threaded Poppet Couplings
Stucchi offers one of the widest selections available of durable and reliable hydraulic quick connect couplers, proven in demanding and rugged applications. Our product line includes:
Flat face couplers

High-pressure couplers

Multi-coupling plates

Poppet interchange couplers
Threaded poppet couplers

Skid steer

hydraulic couplers
Specialty couplers
Check valves, dust caps and accessories
We offer a wide selection of threaded poppet couplings which includes:
VLS – heavy-duty screw coupling
VOF – high resistance to pressure in a compact design
VOFX – increased corrosion resistance with

316

stainless steel
WING STYLE – a rugged wing nut
VD – European poppet style screw coupling
VR – rugged German style screw coupling
VLS Heavy-Duty Poppet Screw Coupling
The VLS series of threaded poppet style hydraulic couplings provide the solution for heavy-duty service conditions including off-road and construction equipment. The VLS is available in two sizes, 1/2″ and 1", and port options BSP and DIN. This heavy-duty screw coupling is interchangeable with German hydraulic couplings and features a zinc plated hardened steel nipple with a zinc plated steel coupler body.
Teflon anti-extrusion rings and nitrile seals improve performance by reducing turbulence and managing pressure impulses. The VLS features a hexagonal sleeve for improved quick connect and quick disconnect and the poppet valve with capture shaped seal prevents extrusion high flow rates.
VOF Threaded Poppet Hydraulic Couplings Series
The VOF series of threaded poppet hydraulic couplings is designed to reduce pressure drop and turbulence, delivering high resistance to pressure impulses. The VOF features an elastomer seal for maximum sealing upon quick disconnect and a high resistance carbon steel retainer. This rugged thread to connect poppet coupler is interchangeable with Snap‐Tite 75, Hydraulics Inc 5TV, Dixon WS and Faster OGV heavy duty screw coupler.
The VOF threaded poppet coupler is ideal in mobile equipment and the oil and gas industry where high resistance to pressure impulses is required. You can find the VOF threaded coupling in applications such as piling hammers, augers, excavators with auxiliary lines in open or closed center hydraulic systems. The VOF threaded poppet coupler is available in sizes 3/4" to 2" with port options NPT and BSP. VOF accessories such as plugs and protective caps are available.
VOFX Threaded Poppet Hydraulic Coupling Series
The VOFX series of threaded poppet couplers are manufactured in 316 stainless steel for high resistance to corrosion. The VOFX is manufactured in a compact design with internal features comparable to the VOF, designed to reduce pressure drop and turbulence. Elastomer seals deliver maximum sealing ability upon disconnection. You can find the VOFX in applications which require high resistance to pressure impulses such as in the oil and gas industry.
Stucchi offers these threaded poppet hydraulic couplings, heavy duty screw couplings and many others to meet demanding application requirements. We also provide custom designed hydraulic solutions designed to meet your specifications when faced with challenging or unusual configurations. We are set apart from other hydraulic quick connect suppliers with nearly 60 years in business and the most experienced technical team available to meet your hydraulic connection requirements.
Stucchi is a leading global supplier of hydraulic quick couplers and custom designed hydraulic solutions. We offer a wide selection of flat face, threaded couplings and more to meet rugged and demanding application requirements. Contact us to learn more about our proven hydraulic quick connect solutions.